You may find that you want to quickly compare how two statistics are doing. You could go back and forth from one graph to another, with the value scale changing and making it confusing. OR, you could use the overlaid graphs feature.
Once you log in, go to "Graphing" then "Multiple/Overlay Graph".
It will open as a blank page that looks like this:
If you have a group selected, only the stats in that group will be options to put on the overlaid graph:
Select "All Stats" to access any stat in your account.
Select the stat that you want to put on the overlaid graph (box 1), the color you want it to display in (box 2), and click "Add To Graph" (box 3).
You can add as many graphs as you like using the same steps. 
There are several ways to adjust how the stats are compared. The options display at the right. 
1. Combined Value Scale – with this selected, the graphs will be shown on the same scale. If they are not in a very close range (like our example) they may be far apart, but still on the same scale
If you uncheck this option, the graphs will be on separate scales, each graph's scale showing in its color, as above.
2. Hide Value Scale – this option adds or removes the numbers that show the scale. If it is selected, you will not see the values of the scale, only the graph.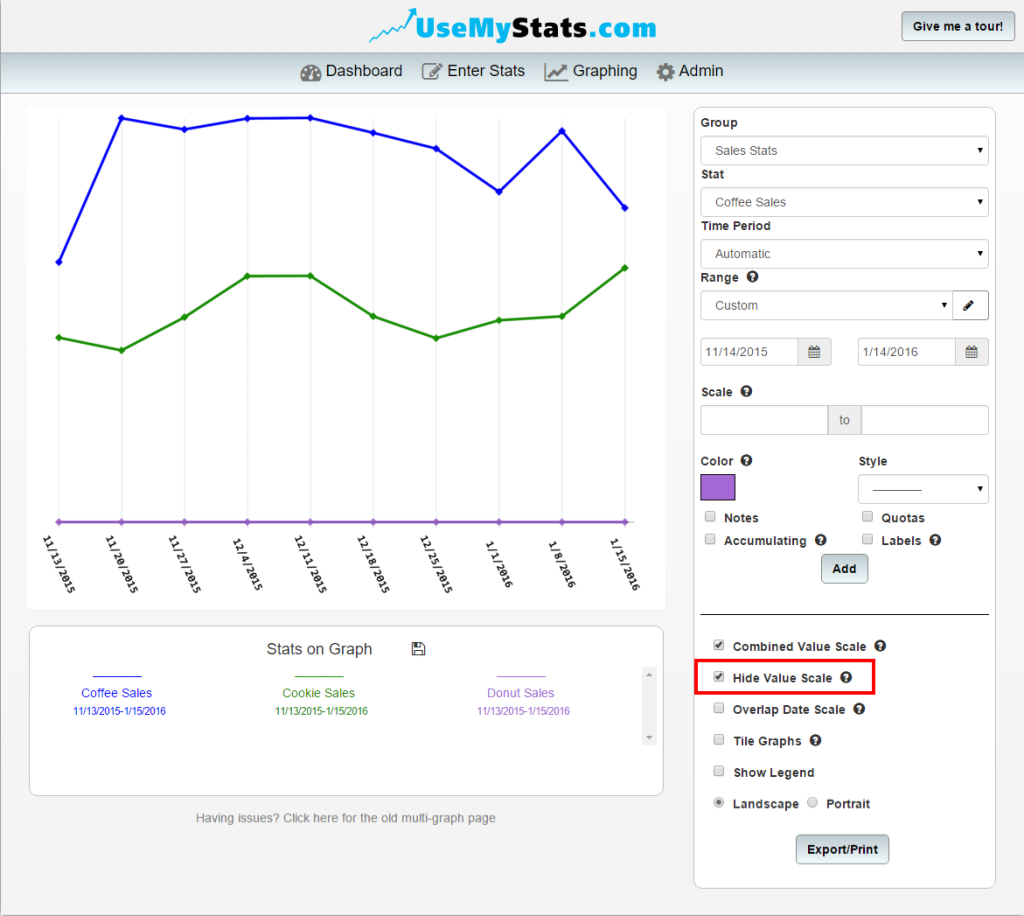 3. Overlap Date Scale – this setting controls whether the dates show at the bottom of the graph. If it is NOT selected, the dates will be displayed.
4. Tile Graphs – this allows the graphs to be viewed next to each other, rather than on the same graph
To edit the settings for a display on the graph, click the stat name below and an edit box pops up.
You can remove a graph by hovering over the name below, then clicking the trash can icon that appears.
To save this graph with all it's settings, click the save icon at the bottom. 
When you next return to the multiple graphs page, just select "Saved Graphs" in the "Group" dropdown to return to this display.
That's all there is to multiple graphing!